In everything that we do, DP Info is mindful of our commitment to "building trust in a connected world", enabling you to do business with consideration and confidence.
DP Information Group - Singapore's Leading Credit Information Bureau
DP Information Group (DP Info) traces our roots to 1978 where we first began as a domestic credit information provider. Today, we are Singapore's trusted credit information bureau for 98 per cent of its financial institutions and leading legal firms. Credit & marketing professionals in multinational corporations and the small & medium enterprises (SMEs) rely on our comprehensive database to make critical and time-driven decisions everyday.
DP Info Group is part of the Experian Group, one of the world's largest credit reference agencies. Experian brings to DP Info global technical and developmental expertise in a wealth of areas including consumer and corporate analytics.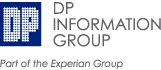 For more details, visit us at www.dpgroup.com.sg